---
It Works! BeautyWorks Collection


Great skincare starts here.
The It Works! BeautyWorks Collection is uniquely formulated to help nourish your skin from the inside out with a simple, easy-to-follow routine. The four skincare products help to reduce the effects of aging while cleansing your skin to give you a glowing, radiant look you'll love, while Hair Skin Nails nourishes from within.
Hair Skin Nails with Biotin – Biotin and other essential vitamins get to work on your hair, skin, and nails in this Nourishing Supplement to help you feel amazing from the inside out.
It Works! Radiance with Hyaluronic Acid – Formulated with Hyaluronic Acid, an ingredient that holds up to a thousand times its weight in water, this Hydrating Serum moisturizes from within and helps you achieve hydrated, plump, and dewy skin on your face and neck.
It Works! Protect with Ashwagandha – This Moisturising Day Cream with Ashwagandha seals in hydration and uses broad-spectrum antioxidants to help protect your skin from the elements.
It Works! Repair with Bakuchiol – This Moisturizing Night Cream rejuvenates the appearance of your skin while you sleep. The formula contains Bakuchiol—a gentle, herbal alternative to synthetic retinols that helps to hydrate and restore moisture in your skin.
It Works! Refresh with Chamomile and Calendula – This gentle, soap-free Cleansing Gel contains calming botanicals like Chamomile and Calendula that wash away impurities while keeping your skin feeling refreshed and soothed—without drying it out.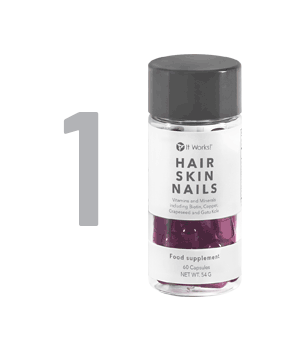 SKU EU47500
It Works! cosmetic products are purely cosmetic in nature and do not claim to cure/treat/prevent any skin & hair related disorders. If you are allergic to any ingredients listed or are under treatment or on medication for your skin, please consult with your physician prior to use.
Keep out of reach of young children.
Do not use on dry damaged or broken skin.
Protect from heat light and moisture.
Hair Skin Nails: Do not exceed the recommended daily dose. Keep out of reach of young children. Food supplements are not a substitute for a varied and balanced diet and a healthy lifestyle. Not recommended for children adolescents, pregnant or breastfeeding women.