---
Protect Ageless Day Cream
with Ashwagandha
30 ml
Protect your skin from the elements
When you infuse your skin with the protective botanicals found in It Works! Protect, you'll help seal in hydration and protect your skin from the elements with broad-spectrum antioxidants. It Works! Protect uses ingredients that help to prevent skin dehydration and retain moisture—giving you one more way to rise and shine every morning.
Features and benefits
Contains Ashwagandha, an adaptogenic herb that promotes skin health and vitality
Takes a stand against environmental stressors
Creates the appearance of a brighter, more even complexion
Enriches skin for a resilient, youthful appearance
Boosts skin's natural tone and texture for a healthy glow
Includes Aloe, Chamomile, and Vitamins E and B5 to soften and soothe your skin
Suggested use
Gently massage onto your face in the morning after cleansing. Avoid direct contact with eyes. For optimal results, pair with the complete It Works! skincare line.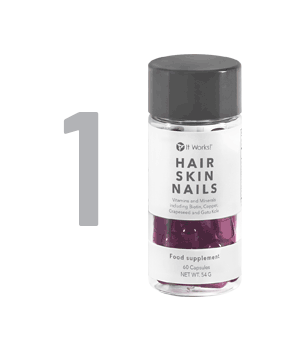 SKU EU21302
Please note: This product does not provide UVA/UVB sun protection.
Individual results can and will vary. 
It Works! cosmetic products are purely cosmetic in nature and do not claim to cure/treat/prevent any skin & hair related disorders. If you are allergic to any ingredients listed or are under treatment or on medication for your skin, please consult with your physician prior to use.
Do not use on dry damaged or broken skin.
Keep out of reach of young children.
Protect from heat light and moisture.