---
Radiance Hydrating Serum
with Hyaluronic Acid
15 ml
Extra hydration from within for dewy, luminous skin
Meet It Works! Radiance, a moisturizing serum created with Hyaluronic Acid—a key ingredient that holds a thousand times its weight in water to help you achieve glowing, luminous skin with youthful suppleness for your face and neck. The formula also helps soothe dry skin with Aloe, Chamomile, and Witch Hazel, so you'll look and feel radiant every day.
Features and benefits
Intensely hydrates your skin with Hyaluronic Acid
Contains Vitamin B5 for softer, more moisturized skin
Uses Witch Hazel as a toner to restore your skin's pH balance
Helps skin appear tighter and minimizes the appearance of pores and fine lines
Suggested Use
Apply 1-2 drops to your cleansed face and neck, once or twice daily as required. Avoid direct contact with eyes. For optimal results, pair with the complete It Works! skincare collection.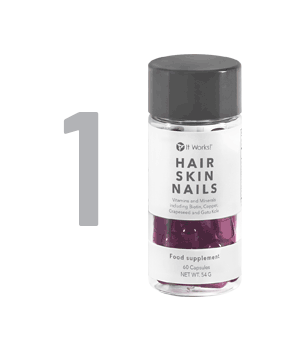 SKU EU22600
Individual results can and will vary. 
It Works! cosmetic products are purely cosmetic in nature and do not claim to cure/treat/prevent any skin & hair related disorders. If you are allergic to any ingredients listed or are under treatment or on medication for your skin, please consult with your physician prior to use.
Do not use on dry damaged or broken skin.
Keep out of reach of young children.
Protect from heat light and moisture.